Where should we send your daily tech briefing?
×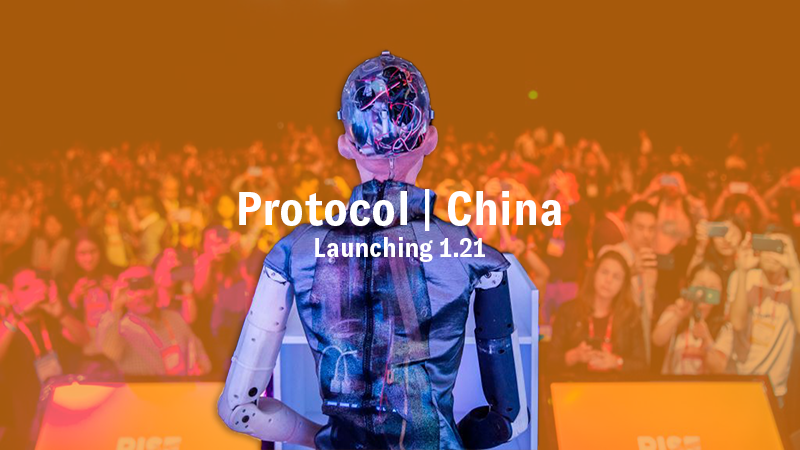 Introducing Protocol | China
Your Knowledge Center for China Tech
Chinese technology and innovation has begun to shape all of our lives and workplaces. We'll get you ready for what's next. Get access to updates and our upcoming China Tech newsletter by signing up below:
Our China Team
Protocol is building a new global team laser-focused on covering the people, power and politics of China's tech industry. We will move beyond the day's headlines to tell you what's next at the intersection of technology, policy and business in the world's largest country.
China is fast becoming the world's technology superpower, and understanding tech means understanding China. For good or ill, the choices China makes, and the development of its innovation ecosystem, will shape how we interact with our devices, with each other, with our government and with the world.
Our narratives:
The relationship between China's government and its major tech players; who's regulating whom, who's in trouble, and who's in Beijing's good graces.
How China's biggest internet firms – and biggest acquirers – think and make decisions, and the internal politics at those companies.
The next companies, technologies, and trends from China that will impact your life and your work.
Our methods:
Original news reporting using in-country sources.
Data-driven analysis that helps spot trends and put the day's stories into context.
A relentless focus on mining Chinese-language information across mainstream, state, speciality and social media to spot stories and trends that the English-speaking world missed.
LEADERSHIP
David is a widely cited China expert with twenty years' experience who has served as a Peace Corps Volunteer in China, founded and sold a media company, and worked in senior positions within multiple newsrooms. He also hosts POLITICO's China Watcher newsletter. After four years working on international deals for top law firms in New York and Hong Kong, David co-founded Tea Leaf Nation, a website that tracked Chinese social media, later selling it to the Washington Post Company. David then served as Senior Editor for China at Foreign Policy magazine, where he launched the first Chinese-language articles in the publication's history. Thereafter, he was Entrepreneur in Residence at the Lenfest Institute for Journalism, which owns the Philadelphia Inquirer. In 2019, David joined Protocol's parent company and in 2020, launched POLITICO's widely-read China Watcher. David is a Senior Fellow at the Foreign Policy Research Institute, a Research Associate at the University of Pennsylvania's Center for the Study of Contemporary China, a Member of the National Committee on U.S.-China Relations, and a Truman National Security fellow. He lives in San Francisco with his wife Diane and his puppy, Luna.
We are recruiting both junior and senior reporters and researchers who speak the Chinese language, obsess over tech, and understand the profound ways China and its unique innovation ecosystem will impact the 21st century. We will focus on analyzing data, collecting Chinese-language information, and moving beyond traditional commodity journalism. Our journalists will report on the intersection of technology and policy in the world's largest country – and the impact China has on the U.S. tech industry – while our private researchers will deliver our sophisticated clients a differentiated look at Chinese technology they can't get anywhere else.