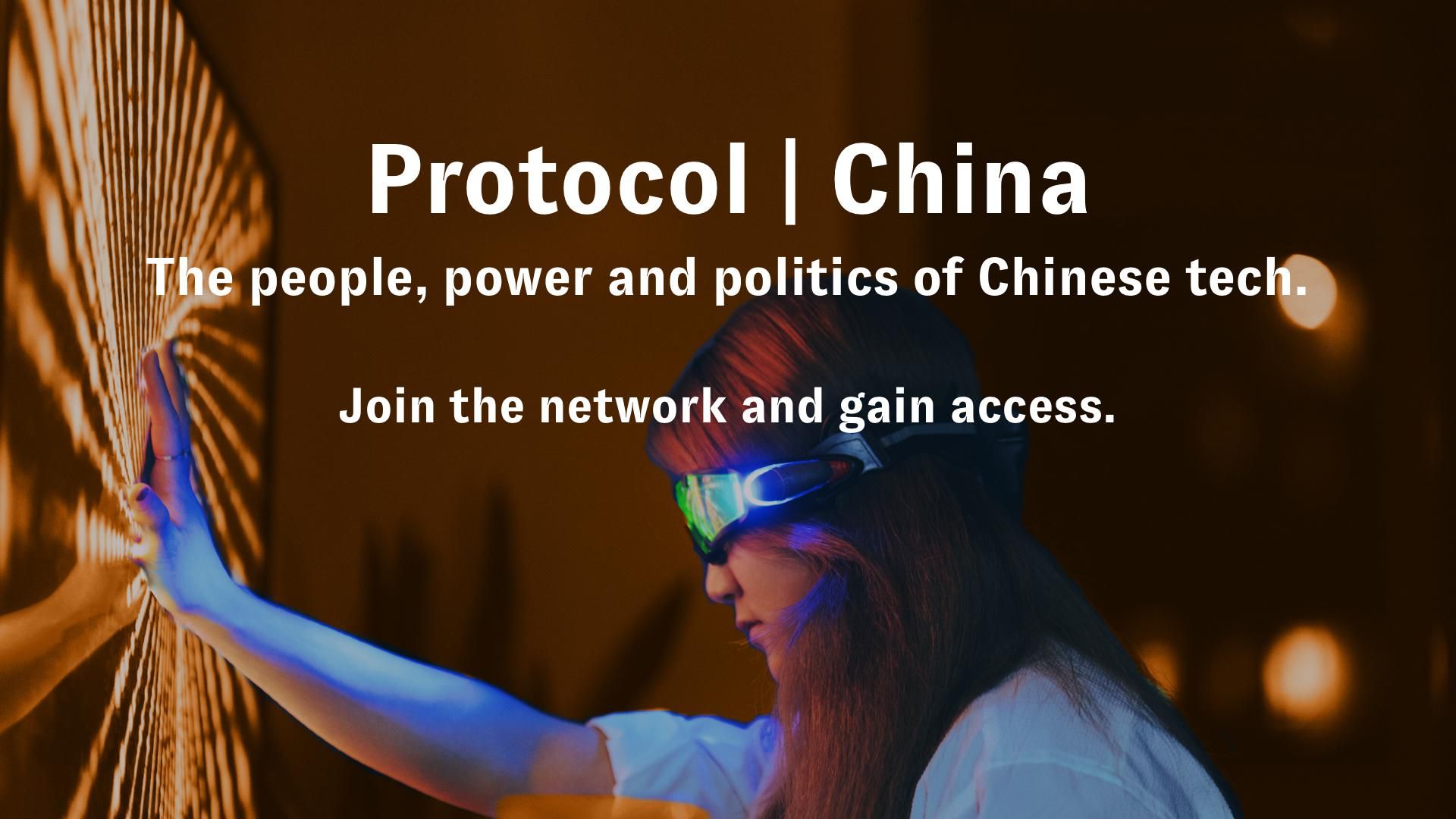 Introducing Protocol | China
Your Knowledge Center for China Tech
Chinese technology and innovation has begun to shape all of our lives and workplaces. We'll get you ready for what's next. Get access to updates and our China newsletter by signing up below:
Our China Team
Protocol is building a new global team laser-focused on covering the people, power and politics of China's tech industry. We move beyond the day's headlines to tell you what's next at the intersection of technology, policy and business in the world's largest country.
China is fast becoming the world's technology superpower, and understanding tech means understanding China. For good or ill, the choices China makes, and the development of its innovation ecosystem, will shape how we interact with our devices, with each other, with our government and with the world.
Our narratives:
The relationship between China's government and its major tech players; who's regulating whom, who's in trouble, and who's in Beijing's good graces.
How China's biggest internet firms – and biggest acquirers – think and make decisions, and the internal politics at those companies.
The next companies, technologies, and trends from China that will impact your life and your work.
Our methods:
Original news reporting using in-country sources.
Data-driven analysis that helps spot trends and put the day's stories into context.
A relentless focus on mining Chinese-language information across mainstream, state, speciality and social media to spot stories and trends that the English-speaking world missed.
OUR TEAM
David is a widely cited China expert with 20 years' experience who has served as a Peace Corps Volunteer in China, founded and sold a media company, and worked in senior positions within multiple newsrooms. He also hosts POLITICO's China Watcher newsletter. After four years working on international deals for top law firms in New York and Hong Kong, David co-founded Tea Leaf Nation, a website that tracked Chinese social media, later selling it to the Washington Post Company. David then served as Senior Editor for China at Foreign Policy magazine, where he launched the first Chinese-language articles in the publication's history. Thereafter, he was Entrepreneur in Residence at the Lenfest Institute for Journalism, which owns the Philadelphia Inquirer. In 2019, David joined Protocol's parent company and in 2020, launched POLITICO's widely-read China Watcher. David is a Senior Fellow at the Foreign Policy Research Institute, a Research Associate at the University of Pennsylvania's Center for the Study of Contemporary China, a Member of the National Committee on U.S.-China Relations, and a Truman National Security fellow. He lives in San Francisco with his wife Diane and his puppy, Luna.



Shen Lu is a Reporter. She has spent six years covering China from inside and outside its borders. Previously, she was a fellow at Asia Society's ChinaFile and a Beijing-based producer for CNN. Her writing has appeared in Foreign Policy, The New York Times and POLITICO, among other publications. Shen Lu is a founding member of Chinese Storytellers, a community serving and elevating Chinese professionals in the global media industry.



Clara Wang is a Researcher and Data Scientist. Previously, she worked as a data scientist for the Biden campaign and at Civis Analytics, and she spent a summer working for the John L. Thornton China Center at the Brookings Institution. She has conducted research on data privacy, misinformation, and information control in the digital age, and she is completing her Master's in Economics at the Yenching Academy program at Peking University.



Zeyi Yang is a Reporter. Previously, he worked as a reporting fellow for the digital magazine Rest of World, covering the intersection of technology and culture in China and neighboring countries. He has also contributed to the South China Morning Post, Nikkei Asia, Columbia Journalism Review, among other publications. In his spare time, Zeyi co-founded a Mandarin podcast that tells LGBTQ stories in China. He has been playing Pokemon for 14 years and has a weird favorite pick.



Will Heidlage is a director at Protocol where he leads strategic partnerships for the Protocol | China team. Previously, Will was a senior director at BowerGroupAsia, a government affairs consulting firm helping global companies understand and influence policies and politics in Asia. There, he led client services for a portfolio of firms in the health care and technology industries across 26 markets. Earlier, he directed the company's firm-wide research in northeast Asia. Will is a graduate of Johns Hopkins SAIS and the Hopkins-Nanjing University Center, and he earned his bachelor's from Pomona College. Outside of Protocol, Will is the co-founder and head of the Washington, D.C., chapter of Young China Watchers, which seeks to organize the next generation of China-focused thought leaders. Will lives in D.C. with his wife, dog and cat.


Theo is an intern for Protocol | China. Previously, he interned at the Center for Cyber and Innovation Technology at the Foundation for Defense of Democracy and the Peace Corps' Office for Strategic Information and Research Planning. He has spent time studying and conducting research in Beijing, Hong Kong and England. He is currently a master's student the Yenching Academy program at Peking University.
We are recruiting both junior and senior reporters and researchers who speak the Chinese language, obsess over tech, and understand the profound ways China and its unique innovation ecosystem will impact the 21st century. We will focus on analyzing data, collecting Chinese-language information, and moving beyond traditional commodity journalism. Our journalists will report on the intersection of technology and policy in the world's largest country – and the impact China has on the U.S. tech industry – while our private researchers will deliver our sophisticated clients a differentiated look at Chinese technology they can't get anywhere else.