Events
Protocol Live
Protocol's live extension of our journalism.
July 1, 2020
Register for our upcoming events:
As we focus on the upcoming 2020 National Political Conventions, Protocol's Issie Lapowsky and Emily Birnbaum will lead a two-event series on the tech and policy needed to enable a diverse future workforce and a strong economy. This event series is hosted in partnership with ITI.
Edge computing is an emerging concept that holds great promise for the delivery of next-generation real-time applications, but it is not as well understood as cloud computing or even the internet of things. What is edge computing, and how will it change the way modern business applications are built and deployed?
Also, given the sheer amount of data generated by devices at the edge of the network and the delays associated with traveling back and forth between data centers, more and more artificial intelligence processes will have to be conducted at the edge. AI best practices are still evolving in the cloud, but they are greenfield at the edge: how should businesses adapt? This event is hosted in partnership with Intel.
Watch our past events:
"Digital" transformation as a concept is both outdated and redundant, as the world's most successful businesses have long "gone digital." Protocol's Mike Murphy and a panel of experts dive in on specific industry case studies to hear how companies are managing transformation initiatives to better serve customers and grow their businesses, especially right now.
This event began with an engaging discussion featuring our partner Simon Freakley, CEO of AlixPartners and Mindy Grossman, CEO of WW. Protocol's transformation editor Mike Murphy led the conversation with Joe Preston, CEO of New Balance; Sheila Jordan, Chief Digital Technology Officer of Honeywell; and Doug Sauder, Director of Digital Product Management & Analytics of John Deere. This event is presented by AlixPartners.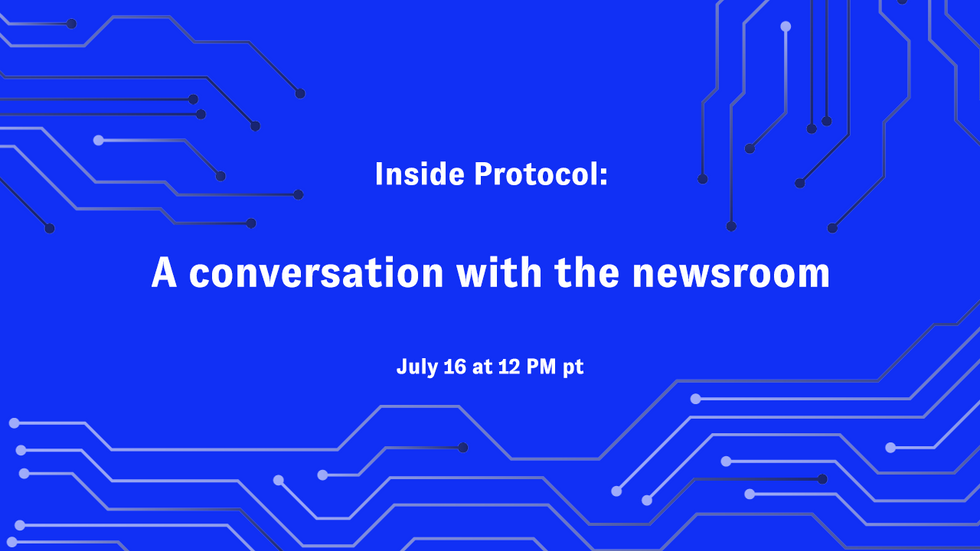 Protocol's editorial leadership took a select few behind the scenes of the Protocol newsroom.
Protocol's Mike Murphy takes our special report on the post-pandemic healthcare discussion live. We explore how COVID-19 is forcing healthcare providers to change the way they work -- and how the billions of dollars in technology-related CARES Act funding and the easing of some regulations will both facilitate and accelerate that transition.
Expert panelists include Dr. Rennee Dua of Heal, Kimber Lockhart of One Medical, Dr. Bharat Sutariya of Cerner Corporation and Ryan Smith of Intermountain Healthcare.

How is COVID-19 shaping the long-standing conversation about employable skills, workforce training, and concrete progress now? We explore these questions with the Congressional Future of Work Caucus co-chairs and a panel of experts from the tech, policy, human resources, and education communities. This event is presented by Workday.
Rep. Will Hurd chats with Protocol's Issie Lapowsky and Emily Birnbaum on how the government can help inject life into the startup economy and how Congress is thinking about tech right now. Presented by Salesforce.
After years of bubble talk, the startup and venture capital world is bracing for a correction. It's going to be tough — but it's also a moment when many founders will be inspired to build and a new generation of companies will crop up, fueled by VCs eager to back them. Sign up for Biz Carson's weekly newsletter on the VC and startup community here.
Protocol's editor at large David Pierce and YouTube's chief product officer Neal Mohan discuss misinformation, news, entertainment, advertising and leading a global company in a pandemic.
4/9 Virtual Meetup: Markets and tech with Goldman Sachs and Nasdaq
Protocol's Transformation Editor Mike Murphy in conversation with Ericka Leslie, Global Head of Operations at Goldman Sachs, and Lars Ottersgard, Head of Market Technology at Nasdaq, about the extraordinary efforts to keep markets up and technology running smoothly.

Senior Reporter Issie Lapowsky interviews California Rep. Ro Khanna (D-CA) about what Washington and Silicon Valley are doing to address the COVID-19 outbreak.

3/16 Virtual Meetup: The Future of Work
Protocol Editor-at-Large David Pierce and Protocol's Lauren Hepler interviewed Stephane Kasriel, former CEO, Upwork, Noelle Tassey, CEO, Alley, Peter Leroe-Muñoz, SVP of Technology and Innovation Policy, Silicon Valley Leadership Group and Andrew Chamberlain, Chief Economist, Glassdoor, about the future of work and the big story of the week: COVID-19's impact on tech.

1/28: Tech in 2020 at Nasdaq Basecamp in Davos
Technology analyst Benedict Evans sat down with Protocol Editor-at-Large David Pierce in Davos.